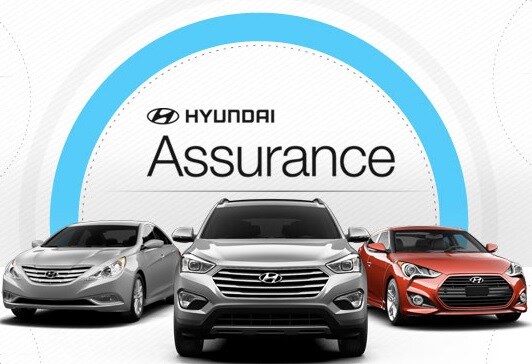 A decade ago Hyundai pioneered America's Best Warrany to show you the faith we have in our cars. And to show our faith in you, we created Hyundai Assurance which now includes America's Best Warranty and 24/7 Roadside Assistance. Right now, finance or lease any new Hyundai, and if in the next year you lose your income*, we'll let you return it.  That's the Hyundai Assurance.
OVERVIEW
Hyundai is the first automaker in the U.S. to offer a vehicle return program that allows you to walk away from your loan or lease without having to worry about negative equity. It lets you return your vehicle in case of certain life-altering circumstances.
That's the Hyundai Assurance.
PROGRAM DETAILS
Available on all new Hyundai vehicles.
Available to everyone regardless of age, health, or employment history.
12 months complimentary on every new Hyundai vehicle financed or leased.
Covers up to $7,500 in negative equity.
COVERAGE IN CASE OF
Involuntary unemployment
Physical disability
Loss of driver's license due to medical impairment
International employment transfer
Self-employed personal bankruptcy
Accidental death
HOW IT WORKS
You finance or lease the new Hyundai of your choice using the financing option of your choice.
Should you experience any of the covered circumstances noted above, you may file a request for benefit with Hyundai Assurance Administrator. You must have made at least two scheduled payments and be current on your loan or lease in order to qualify for benefit approval.
Your benefits specialist will determine the value of your vehicle based on the average of your dealer's appraisal and the values from leading industry guides.
Upon benefit approval, you return the vehicle to the selling dealer and pay any Additional Balance Amounts and the amount above the $7,500 Hyundai Assurance benefit amount (if any).
You walk away without further financial obligation, leaving your credit rating intact.
*See your participating dealer or the program certificate for complete coverage details. Hyundai Assurance is valid on any new Hyundai model financed or leased at participating dealers only, for up to one year after purchase. Restrictions apply.
Hyundai is a registered trademark of Hyundai Motor America. All rights reserved. © 2010 Hyundai Motor America.
24/7 ROADSIDE ASSISTANCE
Hyundai strives to make ownership as worry-free as possible, which is why we have included 5 years of Roadside Assistance along with Hyundai Assurance. If your Hyundai becomes disabled or if you even just lock yourself out, there is someone there to help you 24/7.
Assistance offered under the following circumstances:
Towing for inoperable vehicles, including accidents
Battery jump starts
Changing flat tire
Lock-out assistance
Out of gas assistance
Trip interruption